Enjoy one free greeting card or 5x7 or 5x5 stationery card at shutterfly.com. If you get only eleven more offers such as this, you could have a dozen birthday cards. And if you think this is cute, then you should plan to attend my Shutterfly Party on Saturday, November 12 @ 2pm. I guarantee you will have a phototasic time!
For the limited time offer go to Shutterfly. com and enter code:CARD4U. Be sure to tell'em that a really cute kid sent you!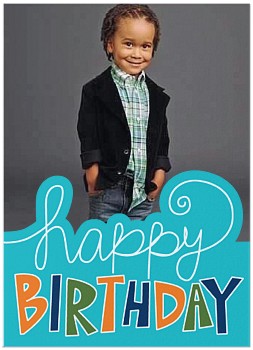 Happy Sign Blue Birthday Card
Click here
to see graduation announcements by Shutterfly.